Light of the Prairies Retreat Centre
…a sacred gathering place located near Winnipeg that fosters personal and spiritual growth.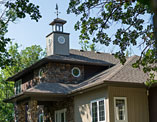 Light of the Prairies Retreat Centre is located near Winnipeg on a beautiful 13 acre property in the heart of Manitoba's prairies.
Our centre provides a vibrant and life-giving environment for those seeking to get away, to relax, to unwind, and to reconnect with themselves and with life.
Whether your need be for a personal or group retreat, a workshop, a conference, a business gathering or to celebrate a special occasion the warm and welcoming atmosphere of the centre is the place for you.
Buy pure natural Honey at the Centre.
We specialize in creamed honey.